Shimibashi Soba – Soba, So Good!
Shimbashi Soba
290 Orchard Road #B1-41, Paragon
Tel: 67359882

I learnt a few things about soba today. Firstly, it is a rich source of vitamins to keep me young and healthy because it has vitamin P, which is only found in buckwheat. Along with that, it is also very rich in vitamin C, B1, B2, and E. secondly, Soba detoxifies and keeps your immunity system up. Thirdly, soba is also good for your weight as it has fat burning acids, but along with that, it lowers your cholesterol and is a great source of fiber. So eat more soba. Furthermore, soba does not only physically improves your health and perhaps your lifespan, but the Japanese like the Chinese believe that noodles are a symbol of longevity, so eat oodles of noodles.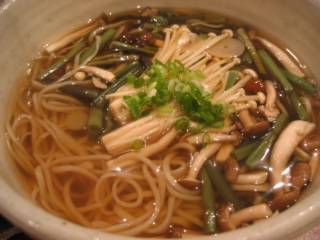 Soba with Assorted Mushrooms
I like this place. It makes me feel healthy. I have a vegetarian friend that doesn't eat meat because she feels it is dirty. I think she'll have a field day at this restaurant. Everything feels so pure, clean and Japanese. I spotted a Japanese man with his daughter and they ordered in Japanese which to me is always a good sign if you are in a Japanese restaurant. The last time I was here I had the vegetarian special which had nato beans, ladysfingers and an egg which cost S$15.90. I liked it very much because of how it healthy it made me feel and the soba here is top notch, handmade and bouncy. My eating partner went for the healthier option today of the warm soba with mushrooms. When the bowl of soup arrived, you could smell the broth! It was absolutely delightful! it was light, tasty and not too salty. I on the other hand decided that I just wanted to have soba. And so I ordered the cold soba with a side dish of beef with mixed vegetables. Our meal came up to S$42 inclusive of green tea for two which I guess might be a little pricey for noodles, but maybe that's the price tag on health today. Overall, its good. I'll come back when I want a healthy noodle fix.