Kitchen Experiments: Kylie Kwong's Mrs Jang's home-style fried eggs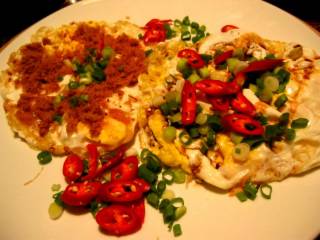 Recipe from Book:
1 ½ cups vegetable oil
4 large eggs
1 tablespoon oyster sauce
small pinch of ground white pepper
2 green shallots, finely sliced
1-2 red chillies, finely sliced
Heat oil in a hot wok until the surface seems to shimmer slightly. Crack eggs into a small bowl, then pour into hot oil. After 2 minutes reduce the heat to moderate, allowing the underside of the eggs to become firm and crisp (the yolks should still be funny at this point). Carefully slige a fish slice under the eggs and lift out of the wok, then pour off the oil. Return the eggs to wok and put back over heat for another 2 minutes to crisp further.
Gently remove eggs from wok and drain off any excess oil before easing onto a plate. Drizzle eggs with oyster sauce and garnish with pepper, shallow and chillies.
Source: Kylie Kwong - recipes and stories
My twist to it:
Instead of using oyster sauce, I used ketchup manis which added some sweetness to it. And on the second set of fried eggs, I sprinkled it with pork floss instead to give it a local Singaporean twist.
What I liked about making this dish was that it is really easy, and simple and the ingredients are hardly complicated and the idea behind this dish was taking the good simple everyday ingredients and enhancing their flavours through the garnishing.