Imperial Herbal Restaurant: yin and yang, where the west will never meet the east.
Imperial Herbal Restaurant

3rd Floor Metropole Hotel
41 Seah Street
Singapore 188396
Tel: 63370491


I'm Chinese and I think this is one of our philosophies on food:

We the Chinese people, we eat weird things.
We the Chinese people, we like to eat weird things.
We the Chinese people, we love and take pride in eating weird things.
We the Chinese people, we constantly look for weirder things to eat.

This place is something. It's Chinese for lack of a better word. It's a pretty fun place to come if you are in the mood to spend some money (about S$30-S$50 per person) and to eat random things that would balance out your yin and yang. Some things on the menu have these fancy pansy names after being translated that I had no idea what it was so maybe someone who is more proficient in the language might be able to help me out.

Example one: Quick Fried Egg White with Dried Scallop,

Polygonatum

and

Ladybell Root

served in a potato nest.

Example two: Double-Boiled Fresh Sea-Coconuts, Aloevera with

Osmanthus-flower

and Candied Sweet Potato and Taro.

Are you as lost at me? NO FEAR, the service staff if pretty good, friendly and helpful. They would be happy to rattle off dishes for you to try as well.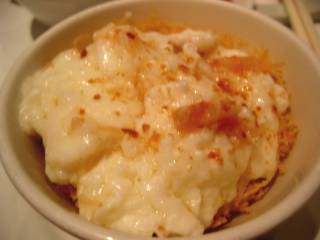 Quick Fried Egg White with Dried Scallop, Polygonatum and Ladybell Root served in a potato nest.



We had the quick fried egg (see example 1)/S$4 per piece. A must try. It's very good. The crispy texture of the potato next it topped off with the very delicate light egg white which is has the dried scallop embedded within it that makes it's a great balance. I however haven't figured out what Polygonatum and Ladybell root is.

A second dish that I would recommend is the imperial Chicken with 8 precious herbs. This is priced at S$30. Unfortunately for us, they were sold out so we had to settle for a less herby experience and we went with the deep fried chicken with 4 treasures. I located 3 treasures: sesame, walnuts and pine nuts, I'm still wondering what the last one is.

Along with that we had some eel sautéed with garlic and baked lamb ribs with wolfberries. Very, very interesting. This restaurant is not for the fainthearted or the unadventurous, you have to be CHINESE-ish and YOU MUST WANT TO EAT STRANGE THINGS. Other things that they serve here are ox tendon, deer, ostrich, frog's legs and other normal things like vegetables, seafood and meat. I guess if you are ballsy enough, you could also try the Panax ginseng deer-penis wine or seahorse deer antler wine. Ordinary is strange here and strange is ordinary.

Labels: cantonese, chinese, imperial herbal