Dutch Food Vocabulary Lesson 1: Kaas
(This is an ode to my last block of cheese that I have, so... anyone who is going to the Netherlands, buy me some cheese.)

De Kaaskamer van Amsterdam
Runstraat no. 7
Amsterdam, The Netherlands
Tel: (31) 0206233483

Kaas
Pronunciation: [kas] de (kazen)
Meaning: cheese: belegen ~ matured cheese; jonge ~ new cheese.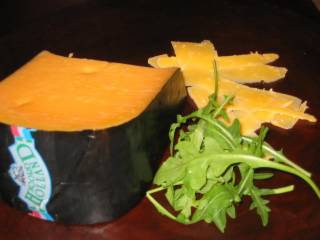 I love cheese. The Dutch's love affair with their cheese has led to a creation of a cheese-slicer that can be found in almost every Dutch kitchen:

"Cloggy Kitchens are also a treasure chest of crude yet practical gadgetry. Best known, perhaps are the uncleanable garlic press and the slotted spade-like cheese-slicer (kaasschaaf) that miraculously produces the stingy, stealth-like slithers of processed curd previously reported. (Try it on anything other than cloggy kaas and you risk being left with a pile of crumbled crud that resembles a scale model of the ex-walls of Jerico)"

Source: Colin White and Laurie Boucke, The UnDutchables, USA: White Boucke Publishing (2003)

I lived in Amsterdam for 6 months, and I fell in love with their kaaaaaas. One of my favourite Dutch cheeses is the Oude Amsterdam, which is an aged Gouda cheese. I liked it so much that I carried close to 3 kg of cheese home. It has got a wonderful saltiness, and the longer it's aged, the saltier the taste. Point of information though, if its a really old cheese, the kaasschaaf isn't going to work on it, you'll have to use a knife instead, which works out fine for me because I like thick fat slices on my bread.

I bought my fat wedges of cheese from this shop "De Kaaskamer van Amsterdam" which translates as the cheese chamber of Amsterdam. Its probably the best cheese shop in Amsterdam. It was the best I came across and it was recommended by an Amsterdamer, plus I've read in some magazine that it is one of those places you should take a look at when you in Amsterdam so if you do go, go there, and please, buy me some cheese.