Post-Work Pepper Inspirations
My new job has seen me work longer hours, and it is because of this fact that I feel a need to do something for me when I get home each day. So recently, I've been bitten by a post-work baking bug. My first baking good of the week was an experiment of chocolate and Szechuan pepper cookies, which tasted alright but they had a texture that was closer to a thin sponge cake than a cookie and in disgust I threw them out, only to be accused of wasting ingredients. Puzzle and still rather determined to make good that cookie, I had a sudden pepper-related inspiration for a new cookie favour, orange and black pepper cookies and that was slated for my post-work activity last night.
So today I was rather gleeful since I managed to turn out a rather delectable product that was well received by my colleagues, even the one who thought I was a high-energy nutcase.
"When did you make these?"
"When I got home from work last night?"
"Aren't you tired?"
"No I guess I'm rather high energy in that sense"
"Are you one of those insomniacs that don't sleep and bake through the night and keep your neighbours up because of all the baking aromas that float into their room??"
"No! Just eat the cookie and tell me if you like it..."
So I guess if you are up and about tonight, you are try making these –
Orange and Black Pepper Cookies
Makes about 4 dozen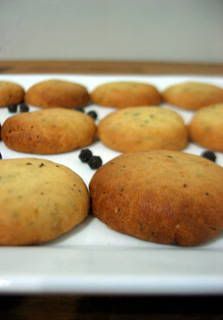 Ingredients:
1/2 vanilla bean, seeds scraped or 1/2 teaspoon vanilla extract
200 g unsalted butter, cubed
125 g icing sugar
4 egg yolks
Grated zest of ½ orange
Pinch of baking powder
1/4 teaspoon salt
250 g plain flour
4 tablespoons crushed black peppercorns
Method:
1. Using the paddle attachment, combine all ingredients except the peppercorns with the mixer on a low speed.
2. Add pepper and mix for another 30 seconds
3. Roll a teaspoon of batter in between palms to form a ball then gently flatted on baking sheets.
4. Bake in a pre-heated oven at 200 degree C for 12-15 minutes or until lightly browned. Transfer onto cooling racks until completely cooled.