La Troquet Café and Bar
La Troquet Café and Bar
1 Sarkies Road, Alliance Francaise
Singapore 258103
Tel: 67361070

Troquet: French Slang for Small wine café

Other than the fancy restaurants in Singapore, I figured that Alliance Francaise Singapore might offer a chance for me to soak up some faux Frenchy, Parisian atmosphere on a Saturday afternoon. However, I was gravely disappointed. I expected the typical French bistro type of food like steak and fries, but they had offered a variety of pasta instead which were over cooked when it reached out table.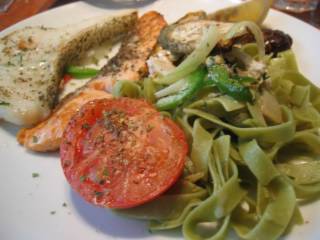 Grilled Cod and Salmon with Pasta
It does however offer so typical French bistro type of food such as escargots (which were sold out) and Duck confit, but other than that I thought this place was a let down. I had a pasta with grilled Cod and Salmon that were grilled with some French provençale herb and some grilled vegetables for S$16, which wasn't too bad, but if u want French-french, I think you might be better off at The French Stall which is now at Serangoon Road I believe. I can't make a judgment if this place is a nice chic small wine café as I didn't take a look at the wine list and I'm not big expert, but honestly, I'm sure there are other Troquets in Singapore.