The Humble Homely Hakka
Plum Village Restaurant
16 Jalan Leban
Singapore 577554
Tel: 4589005

This place serves up some good home-style Hakka food. The service and the place is also really rustic and homely. I have been to this restaurant since I started eating solid foods, and I have fond memories of having dinner here with my grandparents on Sunday evenings. It has been about a year and a half since we've been back there as a family so going back there today was nostalgic. It was especially so when the lady who has been working in the restaurant for many many many years remembered us! It was almost like going back in time with the no-frills deco, service staff and the families that pour into the relatively small restaurant with their noisy chatter.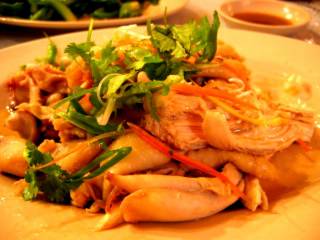 Salted Chicken



The food is good. It has always been and still is. I think for me that was one of the most interesting aspects of the restaurant. People talk about their comfort grub, the food here is no grub, but there is a lot of comfort in it. 15 years later and the dishes are still wonderful, everything is as it was. Sometimes I think going there is like stepping back into a time machine, it's simple, it's warm, it's nice. Its not too expensive too, we had dinner for 4 for about S$55, where we had salted chicken, some vegetable with garlic, pork ribs and Song He Tau steamed in blackbean sauce. For me, its nostalgia personified. And anyone who knows my eating habits, I'm not a big fan of the Chinese restaurant scene or rice, so I guess this is some good old Hakka soul food.