Tribute to Grandfather Han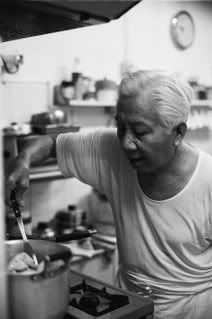 Two days ago I received a telephone call informing me that my cousin's grandfather suffered a massive heart attack and passed on shortly after. The good news, he died a happy man. On the night before he passed on, he two things that he loved, he cooked and he was with his family. I've just realised that I don't know his name, as I have always know him as the Han's Gong Gong who is Hainanese and used to work as a chef and who always cooked chicken rice for their family reunion dinners.
My connection with him is a little strange. I'm not his grandchild, although he has known of my existence since I was a child since I was constantly hanging out with his grandchildren. I also spent half a day with him and his wife in the kitchen of their flat. After several months or sporadic request for his recipes, I finally got him to agree to teach me how to make chicken rice. Very unfortunately, I disappointed the man when I forgot about our first meeting. After which my cousins, uncle and aunty repeatedly made me feel guilty in relaying this message: he was really disappointed and he bought a lot of food because he thought you were coming. With the heavy burden of guilt, I made sure I did not miss the next meeting.
I was greeted with a warm smile and a sincere "hello!" at the door. He invited me into his kitchen and went about his cooking. Moving about at a slower speed as age has caught up, he nonetheless talked energetically about his approach to his chicken rice and his method to preserving the juiciness of the chicken. He never said much, he was a generally a man of few words, but for that morning, he chatted wittily with me about his cooking and food and the various dishes he was cooking for lunch that day because they were the favourites of his respective grandchildren. For that day in his flat, we shared a moment and connected over food and the love for cooking for people.
Here's a tribute to the man I know as the Han's Gong Gong or Grandfather Han, he was great cook but above that he was a man with big heart that was well loved and would be missed.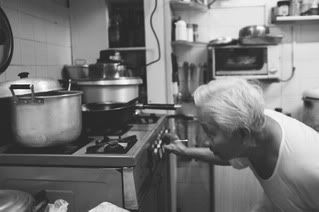 *photos by Hongde.

Labels: chicken rice