Mumtaz Mahal Restaurant - It's almost like being in their home
14 Scotts Road, #05-22/23
Far East Plaza
Singapore 228213
Tel: 67322754
When my cousin said we were going to have northern Indian food in Far East Plaza, I thought she was kidding because I never knew there was an Indian restaurant on the 5th floor, and it turned out to be a nice discovery.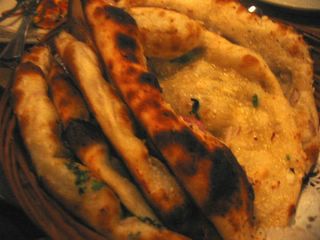 Basket of mixed naan
I wasn't disappointed and it wasn't too expensive too.
Dinner for 9
of us cost
S$160
, which works out to about
S$15-S$20
per person, which is rather reasonable considering that we were all stuffed after dinner. The following is what we ordered:
Chicken Tandoori
Butter Chicken
Chickpea Dhal
Mutton Masala
Mustard Fish Curry
Fish Masala
Vegetable Curry
Lamb Kebabs with special spices
Okra with capcium
Mixture of naan: fruit, garlic and onion naan
If you are looking for a place with an interesting ambience, this place might be it. I found myself humming and singing the bollywood soundtrack that they had after about half an hour into dinner. The service they give you is pretty good too, it is very homely and they do try to go the extra mile for you. After dinner, they give some cumin, rock sugar and cardamom as breath fresheners, after which they gave us each a scoop of a wonderfully rich mango ice cream. There is a sense of informality and warmness in the service complemented the food creating a really cozy atmosphere. The food isn't bad too, nothing tasted bad and the butter chicken was consumed so quickly that we had to order two additional portions. Other dishes that I liked and I would recommend are the mustard fish curry, tandoori chicken and the fruit naan.