Pasta, Pasta, Pasta
After about a few months of contemplation, I finally bought a pasta machine. After a week of pasta production of different shapes and lengths, I am proud to say I have not bought another kitchen white elephant. Inspired and longing to eat at Babbo again, I thought that it might be a great idea to re-create a pasta tasting dinner/lunch at home, so emails were sent out for the pasta luncheon – slow food, fast drinks style.
I nearly cried when I made my first pasta, ok I exaggerate, but I did squeal in delight and had a smugness about it since my brother looked on doubtfully and my mother could not understand the need for a pasta machine and went on to preach to me about the merits and goodness of dried pasta. Freshly made egg pasta has its merits, its silky softness and its richer taste that is beautiful for ragu and it really is not that difficult to make.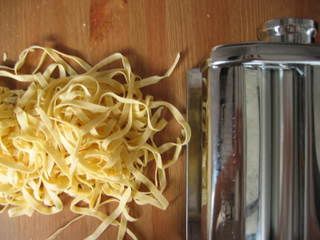 My first handmade pasta!
All you need to remember is this: 1 egg to every 100g of flour that you use, salt it, knead it for 10 minutes and then let it rest for about an hour before rolling it out.
Here's the brief pictorial report on our five-pasta-course-four-hour lunch: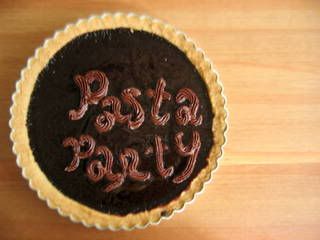 Warm chocolate mocha tart that was made by Mia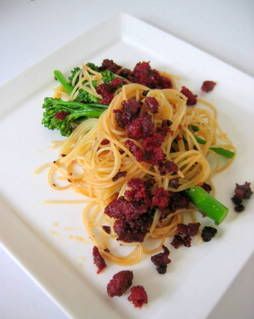 Capellini with chorizo oil and broccolini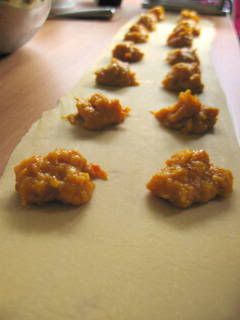 Pumpkin tortellini in the process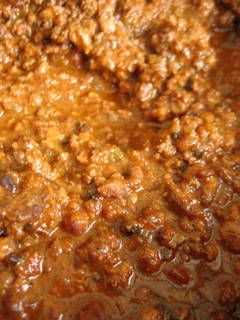 Bolognese, made with a mix of pork and beef mince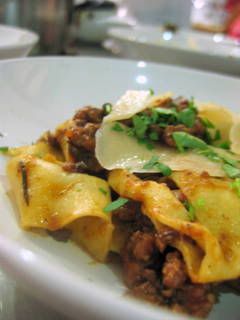 Pappardelle with bolognese
* I didn't pictures for the mentaiko pasta and the homemade fettucine with braised lamb shanks.
Labels: pasta